What does ACES Online have to offer? 
Our ACES Online team is here to help you with all your instructional needs. We will guide you through the entire process, from course outlining to video recording and editing, as well as designing and launching the course on Canvas, Canvas Catalog, or Coursera. You can rely on us for comprehensive support!
ACES Media Studio
The ACES media studio, located in the basement of the ACES Library, Information, and Alumni Center (LIAC), is fully equipped to assist you in creating innovative course content for your on-campus or online course. Equipment includes everything you need to capture media for your course. This studio is ideal for recording individual lecture videos, interviews, Zoom recordings, and podcasts.  Our team of instructional designers and media producers can help you every step of the way, from ideation to editing and sharing. Watch the video below to learn about the available options in the studio. 
Other Media Recording Options
In-the-Field Recordings
The ACES online media producers can take their recording equipment on the go! If you have ideas for recording content in the field, greenhouse, or other living laboratories on or off campus, the media team is happy to record on location. 
CITL Media Studios
The ACES Online Team also has access to CITL media studios throughout campus for additional recordings and can assist in scheduling and editing as well. Media studios include:
CITL media studio in the Literature, Cultures, and Linguistics Building: a larger studio that's excellent for recording videos that need more space, like a panel discussion or demonstration. 
CITL Instructor Studio (External Website): In the Armory, the instructor studio is great for DIY lectures and Zoom recordings. The ACES Online Team can provide an introduction to the studio and help you schedule time for your recordings.
CITL Event Recording Service
CITL can also provide professional and quality video and audio recordings across campus. Learn more and contact CITL for assistance through their Event Recording Service (External Website) webpage.
Instructional Design
With experienced instructional designers, our team is fully equipped to help you with your Canvas, Canvas Catalog, or Coursera course build. We can consult at every step, from planning course objectives to building the course in the LMS. 
Canvas Resources
Check out a variety of ACES-branded Canvas course banners that you can use on your Canvas homepage. Contact us if you have a specific idea or customization you would like. 
Example banner: 

Canvas course templates are now available on Canvas Commons. Check out Importing Canvas Templates to find out how to use them in your course, or watch the video.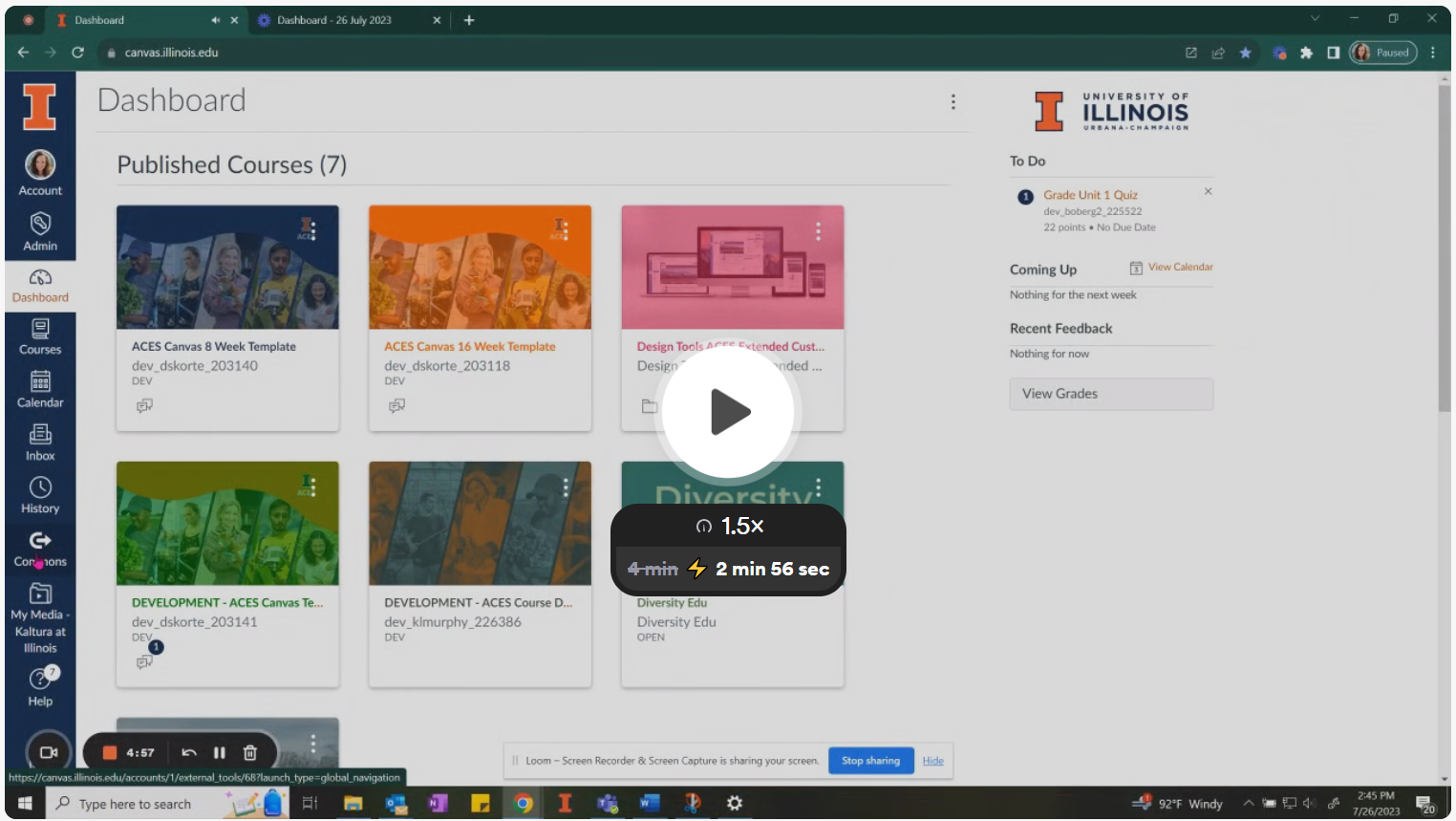 Syllabi 
There are currently two syllabus templates available: 
Syllabus with Coursera component (Box Link)
Syllabus with Canvas only (Box Link)
Teaching and Learning Resources 
For a variety of teaching and learning resources, from ChatGPT to Canvas tips to online pedagogical recommendations, check out Jen's Teaching & Learning Hub. Check back regularly as the site is updated. 
Contact the ACES Online Team
Contact the ACES Online Team for your instructional needs! Schedule time in the studio or an ideation session. When you submit a request, one of our team members will assist you as soon as possible.
Submit a Request
Email the ACES Online Team
Body
See what we can do for you!
The ACES Online Team can assist you in planning, recording, and editing online instructional videos and content. 
Lecture recordings
Interviews
In the field or in the lab
Podcasts
Animations
And more!